5 Reasons You Should be Going to the 5th Annual Mid West Music Fest
5. BEAUTY
Whether you're camping, crashing at a friend's, or stuffing yourself and your three other sweaty, tour-worn bandmates into one hotel room, allow me to welcome you to one of the most beautiful places on Earth. Welcome to Winona. Nestled between the bluffs on either side, Winona is home to some of the most dynamic landscape you can imagine.  Tired of your pillage of some of the best music this area has to offer?  We've got Old Man River with its backwater channels, several lakes, and multiple avenues up and down the bluffs by foot or bike for you to take a respite.  The Lake Lodge lends bikes, canoes, kayaks, and other seafaring vessels letting you easily get your feet wet without having to bring your gear.  While you're racing around downtown trying to grab food before the next set make sure to take a second to look up at the buildings.  The downtown area (as well as other parts of Winona) is littered with gorgeous buildings with beautiful features and classic brickwork.  As the sun sets try to get to Levee Park to watch it sink behind the city and interstate bridge and get ready to take your most favorited Instagram photo.
4. NETWORKING
You might not be a musician but you're an avid fan, or you play in a band from The Cities but you don't know how to break out.  Maybe you do some booking for friends as a hobby or like to set up house shows.   This is the perfect place for you.  Attending or playing other festivals might help you make connections with plenty of bands you will never see again.  Here, you'll meet great folks from groups you can work with, set up shows, gig swap, or invite them to play at your basement show.  It's local, it's regional, it's just outside your area but a good spot to line up on a tour.  You're meeting bands who play in your area, and outside of it, and it's your chance to make the next tour or gig happen. The musician's workshops and speakers are a great chance to meet likely partners, but so is sticking around for the band after you. I'm sure there will be plenty of people to reminisce with at the Husker Du documentary and maybe some music veterans who are still in the biz.  This is a great place for both patrons and performers to meet like minded folks and make some great connections for their careers or just for tickles and laughs.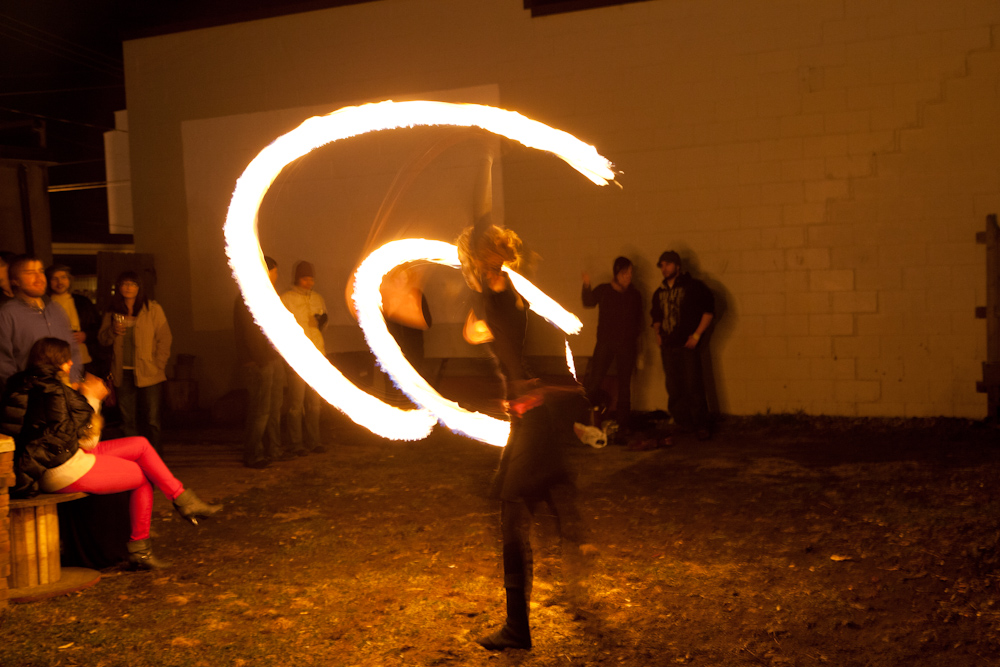 photo by Shannon Porter
3. DIVERSITY
You will be hard pressed to find a more eclectic and palatable music menu for you (if you do please email me – jonathan@thenoisyneighbor.com – I'm curious).  Many other festivals single themselves off to a single style of music, which is fine, but not our deal.  Without compromising quality, we provide the broadest swath of the best the area has to offer.  The selection process for band applicants was grueling, extremely difficult, and even heartbreaking at times, but a necessary gauntlet to run in order to give the highest quality shows at the best venues we have to offer, in some sort of sensible order, so everyone has an amazing time.  There are plenty of all ages venues, some great children's activities and performers (Zinghoppers) in collaboration with Winona's Earth Day Celebration, films, speakers, and dare I mention, some great beers on tap at a variety of pubs.  Polka party or rock line-up; barn dance or indie-pop block; pre-school party rock or Harvard grade hip-hop; I'll be sleeping (meagerly) well this week knowing you are having a great time.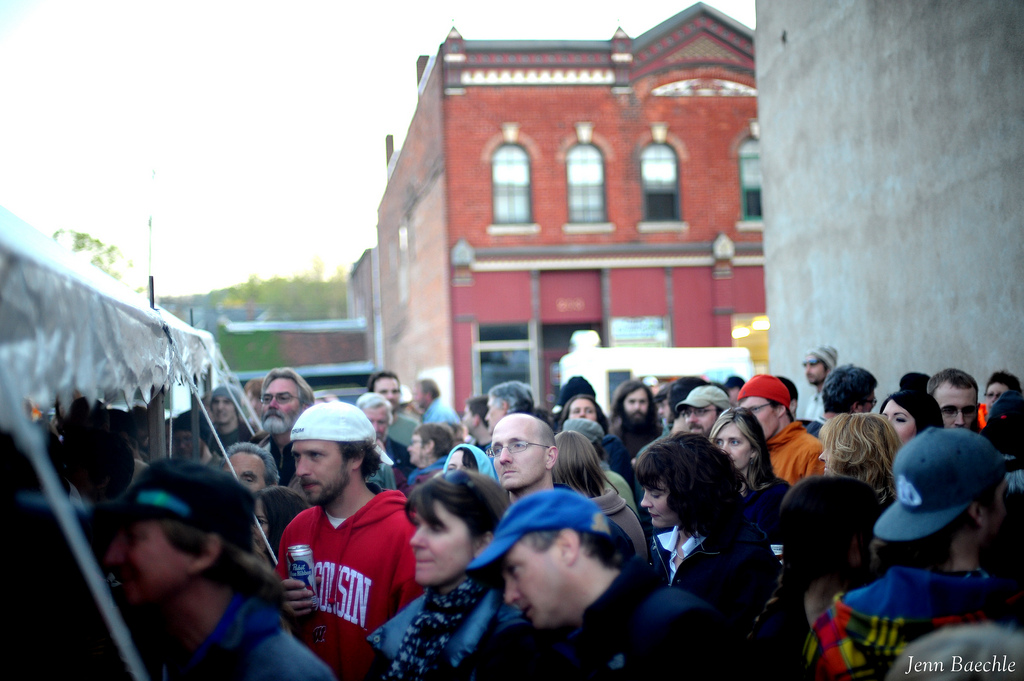 photo by Jenn Baechle
2. COMMUNITY
It's impossible to distance the MWMF from the supporting groups that are involved in it, and the  groups that it spawns.  Locally, it has drawn from existing labor pools, such as Theatre du Mississippi, Frozen River Film Festival and Great River Shakespeare Festival, while creating new ones including the WSU "MWMF Club", and reincorporating members into other entwined organizations like Boats 'n' Bluegrass, Earth Day, and Live @ The Levee.  It is not uncommon for a member of one festival crew to sign on with others, whether it's volunteering, steering a committee, running sound and lights, or simply buying a ticket and attending. If it takes a village to raise a child, then it takes a community to raise a festival, and Winona has brought us up well.  Many local businesses (check your listeners guide) have and continue to provide support for the festival which in turn benefits other local businesses who see higher traffic and an increase in sales. Since its inception, MWMF has reciprocated that love by giving back to educational programs for youth.  This year, a portion of the fest's 2014 proceeds will go to the Minnesota Marine Art Museum's Art Venture Program for youth 6 and older.  The web of mutual support and success that this festival has created blows my mind and makes me glowingly proud to be involved and call Winona my abode.
1. MUSIC
This is no secret. It's a music fest after all.  It's in the name of the event.  The volume and scope is what makes it special. Local and regional bands, some with zero online presence, others with thousands of followers,  kicking it with the super-headliners.  "Where music and community meet".  Some festivals are pigeon-holed as being selective to a certain genre.  MWMF breaks down those walls while still giving audiences an easy to navigate schedule to see blocks of bands they like, and still giving the chance to see something new that they might fall in love with.  Nothing forced, but it's there if you want it.  MWMF is a great chance to see your friends' band share the stage with amazing performers that place on the City Pages and The Current's "Best of" lists.  It's also a great chance to find gems you never heard of, some that often reside in your own town.  It's a four day roller coaster of audio-euphoria.  Welcome to Mid West Music Fest 5. I'll see you towards the front of the stage.
For tickets, venues, musician line-up and all other info, please head to http://www.midwestmusicfest.org