A bit about Beer Club
It's a wonderful time to be a beer lover in Minnesota, and especially in Winona.
It's a wonderful time to be a beer lover in Minnesota, and especially in Winona.
In addition to the many new breweries that have opened up in the state over the past couple of years, we've never had better access to well-made, hand-crafted regional and national beers in our town. At times, the selection seems almost overwhelming. There have been many times I will stand there, slack-jawed, slightly drooling, thinking over what to try. It's a wonderful problem to have.
For the curious, the enthusiasts, or ones looking for a laid back social session setting, this entry's for you!
For the past three months, on the first Tuesday of each month, I've had the honor to help steer Ed's No Name Bar's monthly beer club nights. Beer club has been going on for years at Ed's, and it's a monthly tradition not to be missed. I found this great little article highlighting the seven flavors of beer, and what goes into them, what styles they adhere to (and sometimes transcend), what they pair with, and how they relate to another. I laid the idea on Ed over lunch one day, and then went to work. So far we've had three: Crisp, Hop, and Malt. After a one month break (which I refer to as a midterm), where instead Ed will be having the third annual Hoptober IPA tasting and vote (the winner will get a permanent tap at the bar until next year's event!), we'll finish up with the final four flavors crunched into two Beer Club sessions: Roast-Smoke, and Fruit & Spice-Tart & Funk. Should be interesting stuff!
Beer Club is a great way to sit down, relax, and have a bunch of beers served to you, and you get to converse with the room about what you like or don't like about them. You'll probably try something you haven't had before. You may even find a new favorite.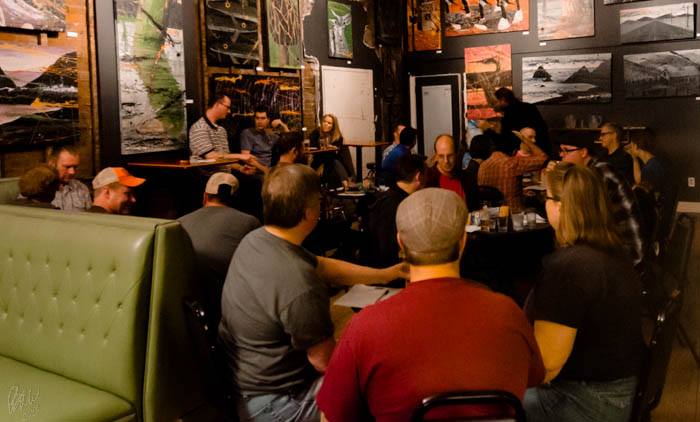 But what if you make your own, or want to make your own? Is it really worth the time, money, and patience? There's a Tuesday for that, too. Every third Tuesday, Ed's has kindly allowed us to hold our monthly homebrew nights there for the past four years. What's great about this night is that we have people who bring their own creations in, folks who don't brew who instead bring a dish to pass, people who just need that little push to get brewing on their own, and people who just love beer who want to come have a taste and hang out. It's a very low key, minimally-structured affair, and something I look forward to every month. In fact, we've all been twitching in anticipation of our November homebrew night, a pre-holiday beer and food feast we've humbly dubbed "Danksgiving". That one is not to be missed. The Winona Area Homebrewers' Facebook page will keep you up to date with the happenings and goings on of our humble group of brewers and beer lovers.
Speaking of homebrew, I took part in a great event on the Fall Equinox this year. As an avid homebrewer, one of the things I enjoy the most is getting feedback and reactions from friends and family. But sometimes it's great to branch out a bit and get your creations out there to people outside your circle, and watch and hear their reaction. So when I was asked to provide beer for a Dinner On The Farm dinner event at Featherstone Farm, an event which featured wonderful local food from our friends at Boat House, and perfectly set music by the boys in Beet Root Stew, I couldn't say no. Many hands came together and put a wonderful event together that drew folks from near and far. My experience centered on brewing and serving, and I documented it a bit at my homebrew blog. If you ever have a chance to go to one of Monica's Dinner On The Farm events, DO IT! Good food, good beer, good people.  What else do you need?