Aramoff Be Praised: New Art, Loud Music, and Petrified Snapping Turtles
Posted on January 9, 2015 By Jonathan Roberts Arts, Music
Aramoff revealed to them that this was no ordinary petrified turtle but his PROPHET. This prophet revealed to Nate where the cave of wonders was located above Stone Circle and Nate hiked up there and killed a cyclops. Upon killing the cyclops, he pulled the BOOK OF THE WAY out of his stomach which revealed all of Aramoff's decrees.
Monolith to Aramoff has been carrying the torch for ear-splitting hardcore music in the Winona scene for a while it seems. Godeater similarly has borne the mantle for doom and sludge bands in the area, and we have all felt the emptiness in our souls since Straight to Your Brain/Bird Sounds front man, Matt Semke, left town years ago. With the death of the Canswer House there has been a void of loud, punch-you-in-the-ear-drums shows, but rest at ease that a prophecy is being fulfilled.
Three local artists are opening a new art show at Ed's (no name) Bar coinciding with a three band line-up that is destined to be heavy, loud, and fast. A perfect chance to chase away the Winter blues with some fresh new paintings and high-energy tunes. Aaron and Brianne offered some insight into their new work and what to expect from the stage slaughter that is in store.
The Art Part:
There are three artists showing their work at this show. Who are you and what's your story?
Aaron Rykhus: Born in Mankato but raised back and forth between Winona and Waseca… grew up as a punk/skater type surrounded by rednecks which came with all the trouble you would think it would. I've spent most of my life playing in a bunch of bands and some time traveling/riding trains so as to see the U.S. for free and gain some life experiences. I'm just finishing up college with 2 degrees… International Relations and Studio Art. A lot of my love for art comes from going to high school for a semester in Germany where I saw a bunch of amazing expressionist artists works that I wouldn't see in America.
Brianne Daniels: I've been making art since I was spawned. No one told me what to do; I just do it because I have to. I came here on my spaceship and it broke down between two bluffs this last spring. So I'm trapped here and I've been painting and making things to try to help repair my ship so I can still travel around to find inspiration; though this place is rather inspiring itself. I've found many other comrades that also like to make art here so I have found that has become my focused effort while living here. Art and music. I started way too many projects and I'm thoroughly distracted by all of them. Which is exactly what I want.
Three artists beg three questions. When was the bulk of your work produced? What was your media of choice? What was your inspiration?
Aaron: 3/4's of my paintings were made in the last 3 months as you can tell by some of them still being wet (lol) the rest were made in the last year. I like to show new stuff with every show. Instead of just hanging the same stuff in the same town. It's different if I'm having a show in a different town where no one has seen it before but in Winona it would be weird to repeat yourself. Oil paint is my medium of choice although I do love printmaking as well. My inspiration for my new series, although it is completely abstract, is "phases that some people go through in their 20's that they think will last a lifetime" i.e. "polyamory", "gluten-free", "bi-sexuality", "straight-edge"; they are mainly just fads that young people go through that at the time they think are so "real"; not to discredit the people that truly are these things. Good for them. I am just making commentary on the people that are doing it for attention or to be "cool".
Brianne: All the work I have up is mostly within the last year or so. The exception is the big one with the tree. That one is from 2009. It's been around. The Blood Mage is older too. I like oil paints. When I paint with acrylics I mix stuff in there to make them like oil paints. I also try to use all things I can find on the ground or collect from all sorts of sources. My inspiration is travel and adventures. I seem to get on a spree in the middle of places I've never been or the wilds. Talking to strangers all over inspires me to conjure other worlds to get a more surreal influence on my work.
How do the seasons affect your work, if at all?
Aaron: I produce most of my art in the winter because it is dark and depressing. I mean I love to play hockey and hike and stuff but most of the time it is more fun when it is freezing out to lock yourself inside with your art friends and just paint the night away. When it is nice weather I prefer to be outside enjoying myself as much as possible in nature or playing as many shows as possible with the bands I'm in. Lately I've been blessed with a nice small group of friends that have been taking art seriously and we kind of have a little group going where we all paint together a couple times a week if not every night depending if we have shows coming up and we push each other. It's super rad. We just need ourselves a manifesto!
Brianne: I work outside in the summer and I work inside in the winter. Fall and spring are the most inspiring while I think I actually get around to making things in the fall and winter. The winter gets weird. I think because I drink more coffee. I can appreciate that.
What is your spirit animal?
Aaron: According to Erika Terashima it is a bear… but perhaps I've evolved into an otter… lol.
Brianne: Uhhhh…Pangolin.
Are you painting biographically?
Aaron: Eh… my older stuff was some images of my dreams. One of the paintings I have hanging is about me having a drinking problem that I'm actively kicking. Most of my other paintings are social commentary. So I would say half and half.
Brianne: Nope. I make shit up. I yearn for another world.
What are your other supplies? Do you wear certain clothes, listen to certain music, or prefer a certain time of day?
Aaron: I always take my vitamins, put on Joy Division, and usually paint when it is dark…you know… to get that whole tortured artist vibe going… lol.
Brianne: I like to wear tutus or dress up, especially if I'm live painting at a bar. Jazz music is regular music choice for long stints. I find inspiration in all sorts of musicians playing a whole variety of music near me while I'm painting. Band practice is my favorite painting time, especially experimental electronic music.
Big spoon or little spoon?
Aaron: I'm usually the big spoon…until my arm goes numb and then I have to master the technique of pulling it out from underneath them without waking them up so I can roll over and actually get to sleep… otherwise I just lay awake enjoying the moment… that's rest right?
Brianne: Big spoon. I like the hug.
What are local stimuli that affect your work?
Aaron: I think my art changes depending on how much live music I'm getting to play. I release emotions through both mediums so my painting is probably less serious the more music I'm playing and if I don't have the opportunity to play music, painting is probably all I do.
Brianne: Wiscoy valley stimulated many of my pieces. Living out there this summer helped me paint outside more and my surroundings supplied me with materials, a flood of beautiful visuals, and random conversations that helped fuel the art.  I also am convinced this whole Winona place is haunted. It messes with the art vibe a little but I don't mind that because I don't want to stay the same all the time.
Have you ever produced anything while being significantly ill? How did it change your work?
Aaron: I don't think I've made art while I was ill, but I wrote a paper on Mary Wollstonecraft while super sick at the Havanna House for Feminist Political Theory and accidentally drank too much cough medicine and felt really weird…totally got an A+

Brianne: Oh yes. I find when I'm ill I surprise myself more because a lot of times I don't remember what I'm doing or I'll look at drawings and wonder who made them. As if the sickness took over and was making the art instead. It makes different colors if that makes sense. Plus I need a distraction if my body is all distressed.
The Music Part: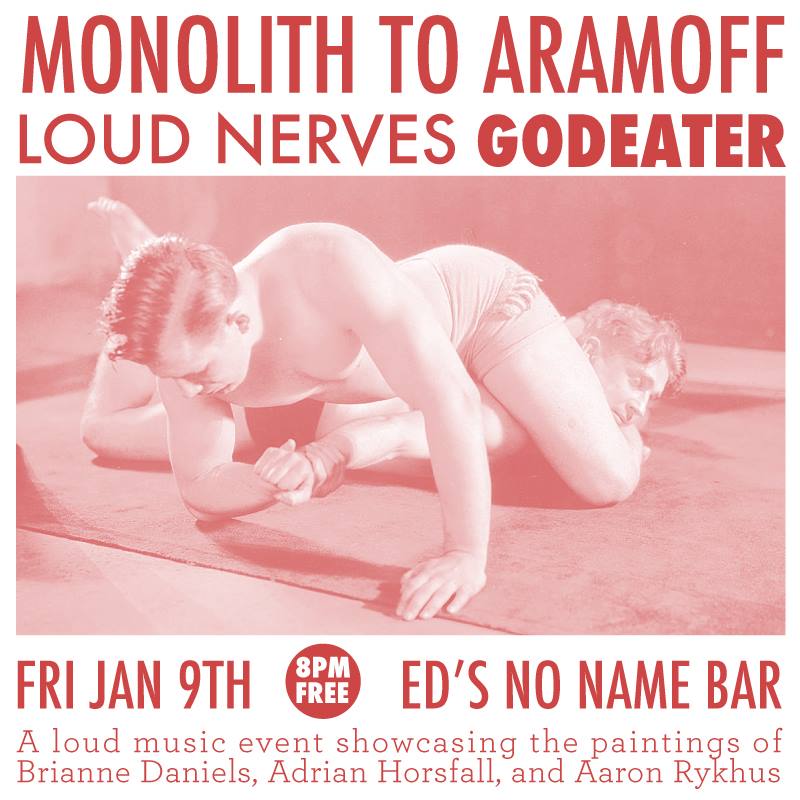 Monolith to Aramoff has been around for a bit. When'd you start playing together? What's your background? What is the Aramoff mythos?
Aaron: Monolith got together roughly in 2011. Originally it was called "Man vs. Whiskey" because I thought it was going to just be another winopunk band… but Aramoff called us to bigger and better things. It was then that Nate and Noah Hauser, who I was in Oni Ki with before discovering a snapping turtle on the railroad tracks behind Latsch Island in the state park that had choked on a baby sturgeon and died. Aramoff revealed to them that this was no ordinary petrified turtle but his PROPHET. This prophet revealed to Nate where the cave of wonders was located above Stone Circle and Nate hiked up there and killed a cyclops. Upon killing the cyclops, he pulled the BOOK OF THE WAY out of his stomach which revealed all of Aramoff's decrees. It's basically our bible which we follow to a T. We do not sing "punk songs". We sing "hymns of praise" to Aramoff himself. Every show is a sign of worship to Aramoff. You wouldn't believe how many people he has revealed himself to. Ryan Mingone and Joel Janetto are prime examples of the new group of disciples that are being raised up to preach the word. We may sound like a hardcore punk band… but we are truly just spreading the good news to the world. ARAMOFF BE PRAISED!
But yeah… the members are currently me on guitar and vocals, old tuna melt Nate on bass and vocals, and Noah Short on drums. Noah Hauser did vocals in the beginning of Monolith until Aramoff called him to use his talents as a film maker in New Mexico. He still sings for us when he is back in town visiting. Dan-bob Johnson from Good Morning sings for us whenever he is around and we cover Minor Threat. Christ Woznicki of Morality Crisis was the original drummer but he moved to Minneapolis to play more with them and because Aramoff decreed that it was time for him to settle down a bit and meet the lady of his dreams (her name is "lil tess tess").
I see Straight To Your Bird Sounds is playing with you all. Tell me about Loud Nerves. Why do I want to see them?
Aaron: You want to see Loud Nerves because Straight To Your Brain was one of the most influential bands on me growing up. In high school I played a bunch of shows with them and the energy blew my mind. Anything Matt and Zabby do together basically is automatic gold. Listening to their EP you can hear Matt's guitar style from Straight To Your Brain even though it's more drony and garage. Less hardcore influence. More post-punk. They compare themselves to Toys That Kill which I think is accurate. Their previous bands have always been high energy so I'm excited to see them live.
Also… Matt has art on the walls at Ed's… which is funny… cuz that means every band has art on the walls. lol.
Who in MtA has the darkest soul? How'd they get that way?
Aaron: Definitely Noah Hauser… that crazy dude has a dark treasure chest that he only brings out when Aramoff decrees… upon opening it you will be amazed and not be able to take your eyes off the treasure for hours… he basically has the power to steal your soul for small amounts of time. He also is behind the Aramoff mystic group called the "Hive Mind." They are similar to maybe Jews that practice kaballah… it isn't for all followers of Aramoff, but who is to say it is wrong? Just be careful if you choose to practice it. It can be both helpful AND dangerous.
Should I bring ear plugs?
Aaron: I wish I would have used ear plugs when I was younger… now I can't because if I have them in I can't hear what I'm doing… but yes… I would recommend them as I'm already going deaf.
Brianne: Probably would be a good idea if you plan to live a while and want to keep hearing things. 😛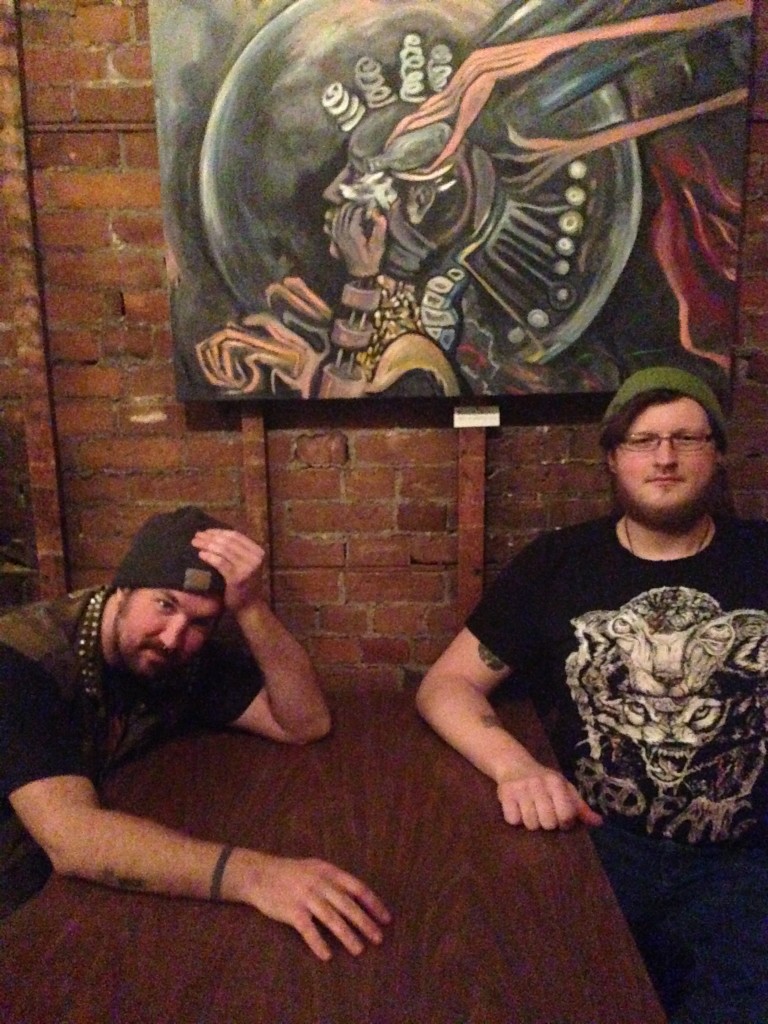 What would you say Godeater's focus is?
Aaron: A lot of our songs are about the vastness and many wonders of outer space while some delve into more of the magical world of shrubbery cultivated by wizards and sometimes Norse Mythology (which isn't Mythology but REALITY). We are heavily influenced by Sleep, Electric Wizard, Red Fang, Neurosis, Isis, Bongzilla, etc…
What is your pre-show ritual?
Aaron: Uhhhhhhhh…… well it used to be about 5 shots of whiskey, a 6 pack, and an assortment of other goodies but I've been trying to not drink so I guess this will be the 2nd sober show I've ever played. The last one i took shots of Mt.Dew so I didn't feel as weird while the rest of the band was drinking. I guess if you want, have a shot of Mt.Dew with me to cheers to new beginnings?
Brianne: Whiskey!
Have you decided on the Minor Threat cover yet? I hear you were taking submissions.
Aaron: We normally do "salad days". At practice today we talked about it but didn't come to an agreement. So, maybe you will hear one, maybe you won't. Do you want to hear it? "I DON"T WANNA HEAR IT! NONE OF YOUR BULLSHIT! I DON'T WANNA HEAR IT!…."
Upcoming Local Shows:
Bands: Monolith to Aramoff, Loud Nerves, Godeater
Artists:
Aaron Rykhus, Brianne Daniels, Adrian Horsfall
What: Loud music event showcasing the paintings of local artists
When: Friday, January 9th, 8 pm
Where: Ed's (no name) Bar
Born and raised on the East Coast of Wisconsin, Jonathan has hung his hat in Winona off and on for years. A WSU graduate, he spent a few years studying and teaching in Japan and South Korea. He is a station wagon enthusiast, still hasn't finished FF7, and suffers from the insatiable compulsion to circle mistakes printed in books and newspapers. He generally favors stouts over porters.