The Hansons Get Bloodied: Mankato Bar & Hei 'N Low
This is the chronicle of two men who share the same last name and penchant for putting alcohol into their tomato-based beverages. Two brothers from different mothers, who are united—not by blood—but by bloody.  My name is Todd Hanson—maybe you know me from my Instagram pictures of Bloody Marys (#toddsbloody)? Maybe not. My friend and drinking companion on this quest is Justin Hanson, who is not only one heck of a guy, but also one heck of a bloody aficionado himself. Follow us around Winona and beyond as we seek out the best Bloody Marys this area has to offer and report back our findings in the greatest detail our bloody addled memories will allow—one drinking hole at a time. It's a tough calling, but somebody's got to do it.
Mankato Bar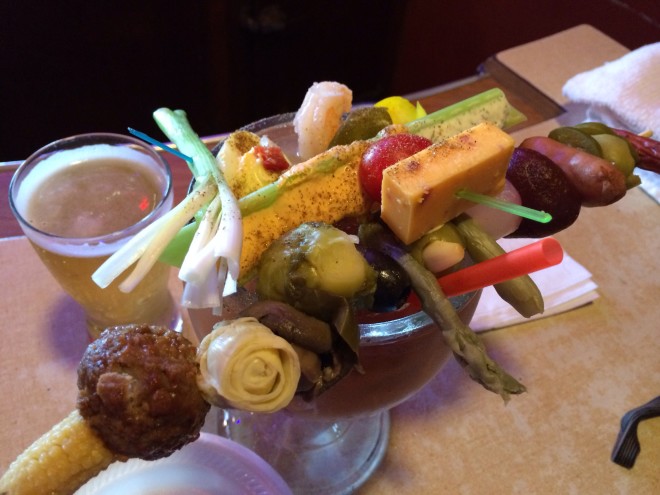 Location: 477 Mankato Ave, Winona, MN
Price: $7.50
Other info: They're only available on Sundays from 10am until gone and they only make about 15 per Sunday.
Todd: This is something to behold. It's probably one of the more over the top bloodys you'll find in the area. The mix itself is nothing special or custom being that it's just Zing Zang from the bottle, but who really cares? I dare you to try and identify everything on that skewer let alone eat it all. Make sure to get there early because we got the last two served the day we were there and it was only 10:30am. Apparently, that was a new record time for selling out. Also, I suggest bringing a townie with if you aren't one because it's one of those kinds of bars, you know?
Justin: The presentation of the bloody was gorgeous. It was like a masterpiece that I didn't want to touch yet was too tempted not to. The price for what we received was worth every penny and then some. The atmosphere of the bar was relaxing and welcoming. The Bloody Mary itself was simple but the wide variety of garnishes was what made this drink one of the best I have seen in Winona.
Hei 'N Low Tap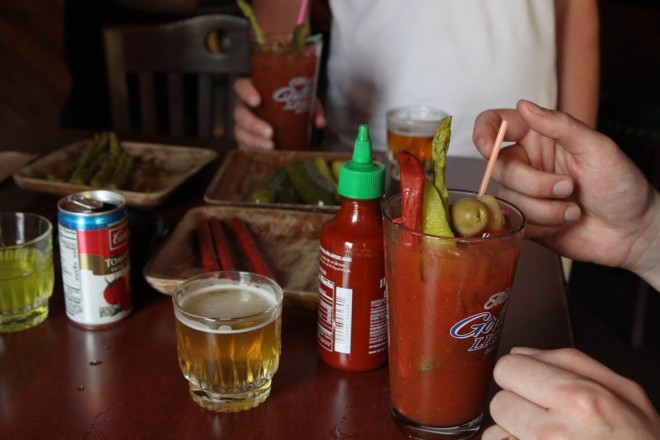 Location: 529 E Wabasha St, Winona, MN
Price: $3.50
Other info: 11am-3pm is $1.00 Off Bloody Mary's on Sunday and also when they have the Make-Your-Own Bloody Mary bar set up with various bloody fixin's for you to choose. You have the option of making your bloody with the house mix or Zing Zang mix from the bottle. They serve their regular bloodys throughout the week.
Justin: The Hei 'N Low offers a make your own Bloody Mary bar on Sundays. I chose to mix mine with pickle juice, tomato juice, and Zing Zang Bloody Mary mix. It is a simple, yet delicious variation of a Bloody Mary. The garnishes that I added were a pickle spear, beef stick, olive, and pickled asparagus. The Hei 'N Low offers a house mix as well as many garnishes, spices, and sauces to add to whatever your taste buds desire. They have a nice layout inside and also offer a back covered patio with two T.V.'s and plenty of seating.
Todd: Unlike Justin, I went with the house mix rather than the Zing Zang. It's a good mix and when I asked the bar tender what was in it or if it was a secret she said, "It's a secret. Actually…I just forgot what 5 things they put together to make it."  Whether that was true or not, I'm a man who can appreciate the mystery. Knowing any more might have cheapened the whole experience, so I didn't really press the issue any further.
Check back to see our continuing bloody adventures.  We'll try to hit up a few places in each post.  Also, be sure to let us know if you've got the lead on a must have Bloody Mary near the Winona area.  If you do, you can email me and maybe you'll see it in our next adventure.  Until then—stay bloody.
Header photo credit: Sarah Roberts