The Hansons Get Bloodied: The Bar, The Monarch, Boat House
This is the chronicle of two men who share the same last name and penchant for putting alcohol into their tomato-based beverages. Two brothers from different mothers, who are united—not by blood—but by bloody. My name is Todd Hanson—maybe you know me from my Instagram pictures of Bloody Marys (#toddsbloody)? Maybe not. My friend and drinking companion on this quest is Justin Hanson, who is not only one heck of a guy, but also one heck of a bloody aficionado himself. Follow us around Winona and beyond as we seek out the best Bloody Marys this area has to offer and report back our findings in the greatest detail our bloody addled memories will allow—one drinking hole at a time. It's a tough calling, but somebody's got to do it.
The Bar

Location: 4054 W 6th St, Goodview, MN
Price: $7
Other Info: This bloody mix and meal is only available Saturdays at 10am until gone.
Justin: Wowza! This is definitely a Bloody Mary that has to be had, especially on a Saturday morning. The house mix is definitely full of flavor and was just what I needed the day before I competed in my second Trinona. Many people carb load, as I do, the day before a race, but a little extra sodium doesn't hurt either. The Bar is proud of the bloody they make, which I always appreciate, and usually means that it is worth trying. They even named it The Bodacious McBiggerton Bloody Mary—a well deserved title for one of the area's best bloodies. The myriad of relishes that decorate the pint glass are: celery with squeeze cheese, pickle, shrimp, pickled onion, pizza roll, olive, pickled brussel sprout, four different types of cheese, pickled mushroom, lemon wedge, pickled green been, hard boiled egg, two peppers, beef stick and a pickled asparagus. The Bar on Saturday is a place that serves a flavor filled Bloody Mary that is absolutely worth checking out.
Todd: Any bloody that needs a cardboard basket on the side to hold all its edible trimmings while you drink it is cool in my book. Believe me, this one has all kinds of good stuff in it. I mean, this Bloody Mary even has a pizza roll—and when pizza's on a bloody, you can eat pizza anytime. It also has its own name and it's Bodacious McBiggerton. Jenn Laturno, bar owner and the creator of this bad boy, told us some of the details. Apparently, she knows of the over-the-top Mankato bloody too and they collaborate in some ways not to step on each other's toes. Mankato serves theirs on Sunday while The Bar does a Saturday thing.  While Mankato may have just a little more on the stick—The Bar has their own original mix. The mix is exclusive to Saturdays at The Bar as well. Jenn created the mix and got input from friends because she doesn't drink bloodys herself. You wouldn't know by this bloody though.
The Monarch Public House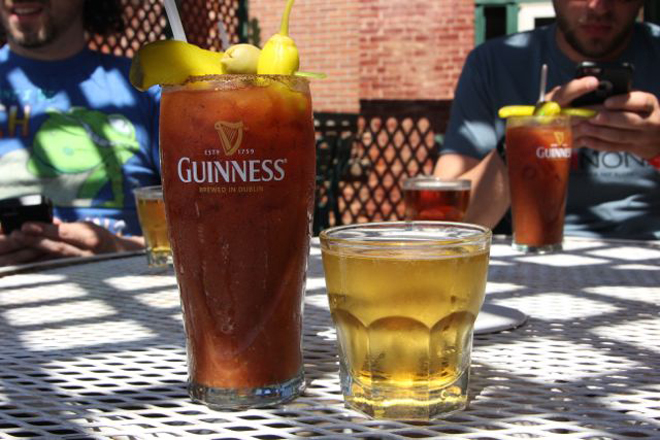 Location: 19 N Main St, Fountain City, WI
Price: $6
Todd: I had heard in the past The Monarch did a bloody special on Sundays. We ended up there on a Sunday, so naturally, I asked if they were doing anything special for bloodys. Our waitress replied, "We don't need any specials because our bloody is always amazing." She was right. This was probably the most unique tasting bloody I've ever had. I really couldn't place many of the flavors I was trying to pick out while sipping it. It wasn't that spicy, but very robust, and maybe even a tad bitter to me, but in a good way. It came with a rimmer too, which I always love, since I don't do straws but drink straight from the rim, dog. Thankfully, we were graciously given some inside info that their mix is actually made in the Twin Cities and they're the only establishment using this mix in a 150 mile radius. It has 36 different vegetables and spices including things like pickles, horseradish and even molasses and pineapple. We got a glimpse inside the mix bottle too and while it looks like a chunky brown sludge, when added to tomato juice it becomes other worldly. I will also add the restaurant itself is absolutely beautiful and unique and worth the trip alone. Plus, they have a giant dragon statue, so there's that.
Justin: The Monarch serves the most unique Bloody Mary in the area and they are proud of it. There is no place that serves the same mix within a 150 mile radius. They serve their bloody with a rimmed glass (celery salt) – I wish more places did this. The first drink I took I couldn't quite figure out what was in the mix and for good reason. The mix that they get has 36 different ingredients and is a full flavored, medium spice bloody with the most uncommon taste. An outdoor patio overlooking the Mississippi River also adds to the experience. The mix was neither thick nor thin but a nice complement of in between. The garnishes were a pepper, olive, and pickle. I would go back for another on a beautiful summer day to enjoy the scenery as well as the exclusive taste of the bloody they serve.
The Boat House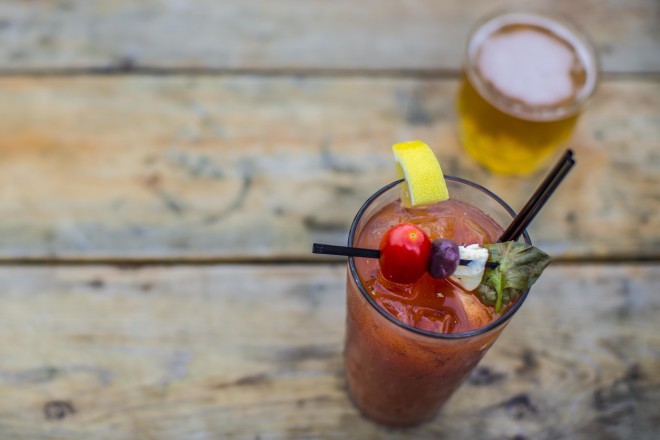 Location: 2 Johnson St, Winona, MN
Price: $6.50
Justin: The Boat House has an exceptional view of the Mississippi River with an enclosed patio as well as an outdoor patio. The Bloody Mary has a tomato juice and garlic base. The garlic is a powerful part that makes this house mix one of a kind. It is one of the fancier bloodies that I have had being garnished with an Ellsworth cheese curd, a cherry tomato, a sprig of basil, a lemon wedge, and a Kalamata olive. It is served with Tito's Vodka. I also want to add that this is one of the only Bloody Marys that I have ever had without a pickle. My list of places to 'have another' is extended with the Boat House bloody.
Todd: This is a great bloody and very simple in its execution, while remaining original and elegant.  Instead of your standard block of cheese, it has a white cheese curd.  Instead of your green olive with pimento, it has a purple Greek Kalamata olive.  And for your greens, you have basil instead of celery or a pickle.  It also has a cherry tomato and lemon wedge.  The mix is spicy, garlic driven, and delicious. It's a perfect bloody to bring outside to the patio on a sunny day to watch life on the river float by. The Boat House also has some great food and a very classy atmosphere and your bloody chaser definitely won't be Budweiser.
Check back to see our continuing bloody adventures. We'll try to hit up a few places in each post. Also, be sure to let us know if you've got the lead on a must have Bloody Mary near the Winona area. If you do, you can email me and maybe you'll see it in our next adventure. Until then—stay bloody.
Header photo credit: Randal Kline